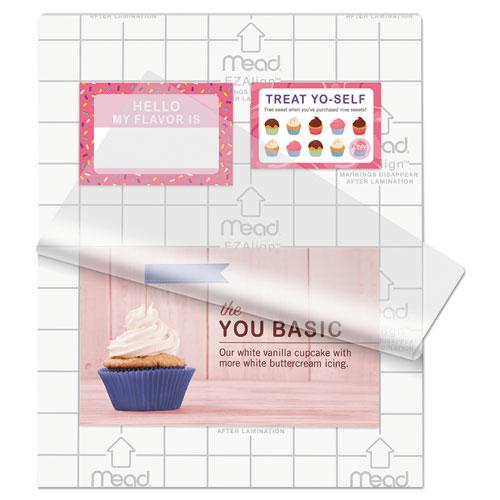 Mead EZAlign Thermal Laminating Pouches
MEAD part 39033
Product ID 0351139033
$92.16*
*Final pricing and availability will be determined upon request for quote. Volume discounts and other price adjustments may apply.
Description
Mead EZAlign Thermal Laminating Pouches - Laminating Pouch/Sheet Size: 9" Width x 11.50" Length x 5 mil Thickness - for Document, Office, Home - Clear - 200 / Pack
More details
Laminating pouch features a handy grid across the entire front that disappears after laminating to ensure your documents are always properly aligned. Plus, the disappearing directional arrow takes the guesswork out of deciding which edge of the pouch goes into the laminator first. Its versatile design can be used to laminate smaller items as well. Simply place your small item in the bottom corner of the pouch, cut it to size and save the rest to laminate other small items. Then use the included carrier to laminate your item. Letter-size laminating pouch is compatible with just about any home or office thermal laminating machine.