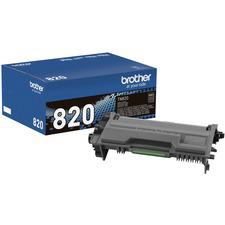 Brother Genuine TN820 Mono Laser Black Toner Cartridge
BROTHER INDUSTRIES, LTD part TN820
Product ID 03817TN820
$107.90*
*Final pricing and availability will be determined upon request for quote. Volume discounts and other price adjustments may apply.
Description
Brother Genuine TN820 Mono Laser Black Toner Cartridge - Laser - Standard Yield - 3000 Pages - Black - 1 Each
More details
Toner cartridge is designed for use in Brother DCP-L5500DN, DCP-L5600DN, DCP-L5650DN; HL-L5000D, HL-L5100DN, HL-L5200DW, HL-L5200DWT, HL-L6200DW, HL-L6200DWT, HL-L6250DW, HL-L6300DW, HL-L6400DW, HL-L6400DWT; MFC-L5700DW, MFC-L5800DW, MFC-L5850DW, MFC-L5900DW, MFC-L6700DW, MFC-L6750DW, MFC-L6800DW and MFC-L6900DW. Genuine Brother toner is delicately balanced to provide even flow and toner distribution on the paper. Only by using Genuine Brother toner can you enjoy the ongoing improvements and technical changes that occur regularly throughout the hardware life cycle. All genuine Brother printer supplies are designed as part of an entire printing system to provide a superior degree of quality. Cartridge yields approximately 3,000 pages.