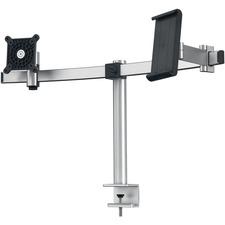 Categories
DURABLE Mounting Arm for Monitor, Tablet - Silver
DURABLE OFFICE PRODUCTS CORP. part 508723
Product ID 04238508723
$736.52*
*Final pricing and availability will be determined upon request for quote. Volume discounts and other price adjustments may apply.
Description
DURABLE Mounting Arm for Monitor, Tablet - Silver - Height Adjustable - 1 Display(s) Supported - 34" Screen Support - 17.64 lb Load Capacity - 75 x 75, 100 x 100 - 1 Each
More details
Monitor Mount features a dual-mount design to comfortably display both a monitor and tablet. Both arms are individually adjustable to change the height, tilt and orientation without moving the other arm. Safety system protects fingers from jamming between the moving components. Five individually attachable, cable clips ensure orderly cable management. High-quality construction is made of durable components for a long product life. 360-degree, rotatable monitor allows you to work in portrait or landscape. Monitor mount fits standard/curved monitors from 21" to 27" and 6.5 to 17.5 lb. Tablet holder can be used with all tablet sizes from 7" to 13". Tablet holder is completely rotatable with snap-in points at every 90 degrees. Lockable design protects against tablet removal. Table clamp fits tables with thicknesses from 1/2" to 1-3/4".