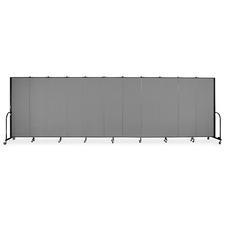 Screenflex Portable Room Dividers
SCREENFLEX part CFSL6011DG
Product ID 04449CFSL6011DG
$3,414.10*
*Final pricing and availability will be determined upon request for quote. Volume discounts and other price adjustments may apply.
Description
Screenflex Portable Room Dividers - 72" Height x 20.4 ft Length - Black Metal Frame - Polyester - Stone - 1 Each
More details
Freestanding portable partition optimizes limited space. Create training rooms, intimate settings for guest speakers, or hide unsightly construction. Multiple units lock together to form unlimited lengths. Partition features control hinges, sound-absorbing panels but no complicated track systems, costly structural supports or interference with a building's heat, light or ventilation systems. Room divider features self-leveling, locking casters. Caster wheels provide easy mobility to move and combine the partition with other partition for the configuration you need. Partition is made with fabric, black powder-painted metal trim and hinges. Partition contains a high percentage of recycled material.