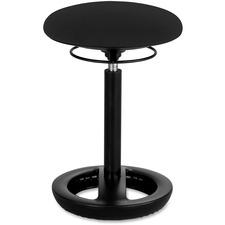 Safco TWIXT Ergo Desk Height Chair
SAFCO PRODUCTS part 3000BL
Product ID 046883000BL
$432.83*
*Final pricing and availability will be determined upon request for quote. Volume discounts and other price adjustments may apply.
Description
Safco TWIXT Ergo Desk Height Chair - Black Polypropylene, Nylon, Vinyl Seat - Rounded Base - 1 Each
More details
Twixt Ergo Desk Height Chair is designed to help support better posture and balance. Flexible ring under the 15" diameter seat allows you to adjust angle of sit (20 degrees) and provides movement for an active sitting experience. Height-adjustable stool features an upholstered seat and 360-degree swivel black base and cylinder. Height adjusts from 17-1/2" to 22-1/2". Aluminum base measures 14" diameter with TPU ring, steel piston and mechanism. The foam-cushioned seat offers a 2" thickness. Seat is also made with polypropylene, nylon fabric (mesh) and vinyl.