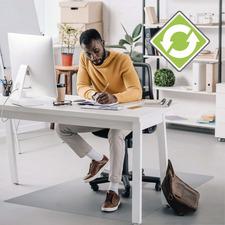 Ecotex Evolutionmat Anti-slip Rectangular Chairmat
FLOORTEX part ECO123048AEP
Product ID 05352ECO123048AEP
$127.00*
*Final pricing and availability will be determined upon request for quote. Volume discounts and other price adjustments may apply.
Description
Ecotex Evolutionmat Anti-slip Rectangular Chairmat - Hard Floor, Pile Carpet, Home, Office - 47.24" Length x 29.53" Width - Rectangle - Polymer - Clear
More details
Chairmat features an anti-slip coating that creates a low-tack backing to prevent sliding and the resulting frequent adjustments. See-through material offers excellent clarity that blends into your environment to show off the natural style of your floor. Its thin construction sits close to the ground to help prevent trips and falls. Chairmat is designed for highly polished hard floors, high-gloss hard floors and pile carpets.