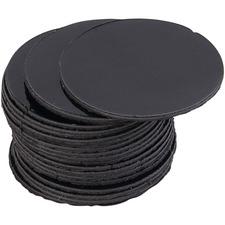 MasterVision Magnetic Color Coding Dots
BI-SILQUE SGPS S.A. part FM1605
Product ID 05501FM1605
$38.30*
*Final pricing and availability will be determined upon request for quote. Volume discounts and other price adjustments may apply.
Description
MasterVision Magnetic Color Coding Dots - 3/4" Diameter - Round - Black - Vinyl - 20 / Pack
More details
Magnetic color-coding dots make building and maintaining your planning board easier. Arrange data easily and quickly when changes become necessary. Use the 3/4" diameter circles for color-coding magnetic planning boards. Dots can be used on any other magnetic surface. They can be written on with dry-erase markers for customized labeling.