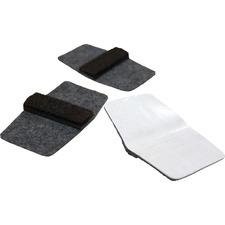 Lorell Wraparound Floor Savers
LORELL part 00126
Product ID 0573900126
$200.47*
*Final pricing and availability will be determined upon request for quote. Volume discounts and other price adjustments may apply.
Description
Lorell Wraparound Floor Savers - Gray - 100/Bag
More details
Wraparound Floor Savers provide floor protection for chairs with sled bases. Not only do the floor savers protect floor surfaces from scratches and rust stains, but they also dramatically reduce noise and are extremely durable. Apply easily with the peel-and-stick application. Pads stick tight. Wraparound Floor Savers conform to the base rail for a perfect fit, and wings attach to themselves for long-lasting hold. Formed sides and stress-relieving design ensure the pad will stay on. The vinyl wear cushion distributes weight, and the casing allows less wear to the pad and floor. Floor Savers can be applied directly to rail or over existing glide of a sled-base chair, stackable chair, bookcase, desk and more. Use on hardwood floors, VCT, vinyl, linoleum, finished concrete and ceramic tile floors.