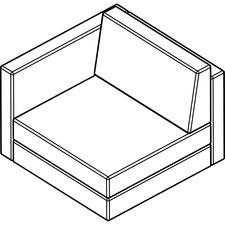 Arold Cube 300 Right-Side Armchair
AROLD part CU304WH08
Product ID 09981CU304WH08
$1,209.13*
*Final pricing and availability will be determined upon request for quote. Volume discounts and other price adjustments may apply.
Description
Arold Cube 300 Right-Side Armchair - 27" x 19.8" x 18" Seat, 14.8" Back, 30.5" x 30.5" x 32.8" Chair - Finish: Merlot
More details
When modular meets comfort A simple, pure collection to make any space your own. The modular flexibility of CUBE creates comfortable public and private spaces like none other. CUBE collections combine perfectly to yield fully personalized interiors.