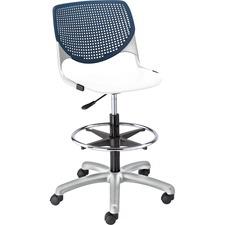 KFI Kool Collection 2300 Armless Stool with Casters
KFI SEATING part DS2300B3S8
Product ID 10043DS2300B3S8
$618.75*
*Final pricing and availability will be determined upon request for quote. Volume discounts and other price adjustments may apply.
Description
KFI Kool Collection 2300 Armless Stool with Casters - White Polypropylene Seat - Navy Polypropylene Back - Powder Coated Silver Steel Frame - 1 Each
More details
The Kool Collection of seating is ideal for everywhere . Create spaces with solid or contrasting pairings of polypropylene backs and seats or opt for your favorite upholstered seats for added flare and comfort. Kool Looks Great, Feels Great.The ergonomic perforated back not only offers an attractive design, it allows for enhanced circulation and air flow. The radius conforms to your back for maximum comfort.